Every now and then a superclinic emerges that breaks the mold – a medical beauty destination that challenges the status quo, disrupts the aesthetic landscape, and encourages new ways of thinking. And there's no better time for it than now, as the world is going through a series of seismic changes.
The 2021 beauty and cosmetic surgery guide is there for all your post-containment adjustments
Ouronyx opened on St James's Street with a soft launch in February, and it quickly became a hot ticket. Its sudden success is no coincidence: its founders are Marc Princen, former executive vice president and president of international affairs at Allergan, maker of Botox, and Ida Banek, entrepreneur and professor of psychology. Together, this powerful pair scrutinized every element of the patient's journey to create something truly revolutionary. "We didn't want Ouronyx to look like a clinic," Princen says. "It's about how the patient interacts with space – and how they feel when they enter. "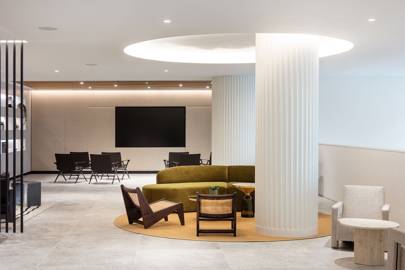 Spanning two floors and 8,500 square feet clad in pale Italian stone, Ouronyx looks more like an art gallery than a clinic. Digital works by British artist Dominic Harris hang on white walls – in one, a cloud of black and gold butterflies follows visitors as they descend the elegant staircase – as living moss grows in the interior of the columns in shades of green and pink. On the lower ground floor, six treatment rooms with curved walls and beige leather beds wrap around a central atrium, where post-procedure touch-ups are administered by makeup artists in well-lit mirrors.
Registering with Ouronyx is like entering a private club. Patients are greeted at the door by the concierge team and taken to a large, bright space. There is no formal reception – in its place is an elegant bar. There's also no waiting room – instead, mid-century armchairs and drop-down sofas are arranged in small groups (think Soho House meets Kelly Wearstler's interior design), where patients can sip cappuccinos and discuss treatment options with their doctor. "The top floor is designed for the first consultation," Banek explains. "However, if a patient just wants to sit down and have a coffee, that's fine."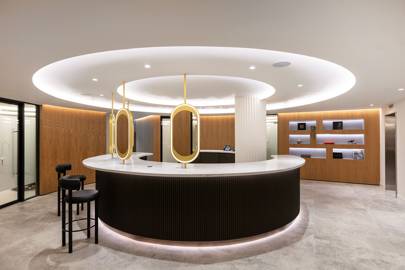 The biggest point of difference between Ouronyx and its competitors, however, is not its design but rather its injectable-only approach. You won't find medical grade facials, micro-needling, or skin tightening here – just facial injectables and an emphasis on natural-looking results. "If a wonderful machine comes up for the face or neck, we'll probably buy it," Princen says. – But it doesn't exist yet. So we focus on what's strong and durable – and that's Botox and fillers. '
Tatler's Guide to the UK's Best Clinics: From Dentistry to Skin Care
There is not just one doctor in residence, but several: Ouronyx has recruited renowned estheticians from all over the UK (Dr Raj Acquilla, Dr Sabika Karim and Dr Nestor Demosthenous), as well as at the foreigner (Dr Iman Nurlin from Sweden). Each will come several days at a time or by appointment. Having so many personalities under one roof can be tricky, but Princen and Banek both believe collaboration, not competition, is key. "When you work as a team, you get better results," Banek says. "We want to enhance aesthetics – but also make it accessible: to show patients that they can benefit from high-quality treatment and not be afraid of the result. "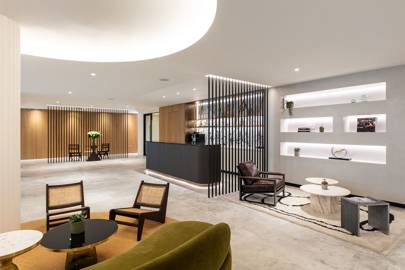 After all, the biggest obstacle to trying injectables is the fear of an unnatural outcome – something Ouronyx aims to eliminate, with an emphasis on psychology (a simple psychometric test will determine the key goals of patient, along with their fears and personality, to inform their treatment plan).
Technology also plays a role: the clinic uses a state-of-the-art 3D visualization system – the first of its kind in the UK – which measures skin thickness, collagen levels, fat and muscle. "This means that we can show the patient, through the most accurate graphs and measurements, their progress: for example, the amount of collagen restored, improving the depth of wrinkles or reducing sagging," explains Princen. Not to mention the video equipment in each room, making it possible to film the treatment and save it in each patient's profile for future reference (or even stream it live on the flat-screen TV at the foot of the bed, if you prefer. wish it).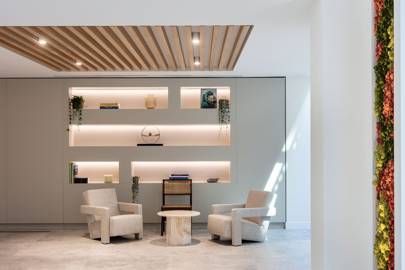 This intelligent data combines to form a precise plan, allowing physicians to determine the best way to treat patients in a way that meets their psychological, anatomical and emotional goals, all of which are the benchmarks of a good cosmetic procedure. Most importantly, it demystifies the treatment journey and gives the patient a roadmap – so they feel in control.
Ouronyx is more than a clinic, it is a movement: towards patient education, but also empowerment. That's what makes it great.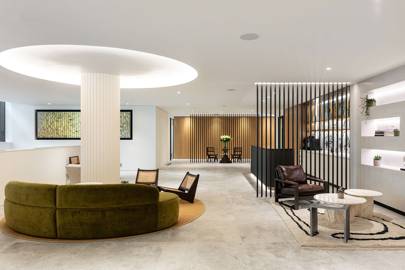 For more information visit ouronyx.com.
This article originally appeared in the August issue.
The new Tatler Beauty Box is here: packed with £ 605 of skin care from London's top doctors
Subscribe now to get 3 issues of Tatler for just £ 1, plus free home delivery and free instant access to digital editions
More from Tatler