Lee Sharrock chooses his notable performers at Frieze Masters, the quieter antidote to the larger and more brash Frieze London.
Frieze Masters is a unique art fair that showcases works of art spanning a vast span of six millennia. It is a rare pleasure to be able to find antiques juxtaposed with paintings by old masters and illuminated manuscripts, alongside modern masters such as Chagall, Picasso and Freud.
The return of Frieze London and Frieze Masters after the pandemic involves a Covid-19 authorization bracelet after proof of vaccination and time slots, meaning everyone can feel comfortable once inside and that the place doesn't feel overcrowded, which gives it the feel of a museum.
Masters offers presentations from 130 galleries around the world, making it more manageable than Frieze London with over 160 galleries on display. A visit to Masters offers a condensed lesson in art history, as well as an opportunity to discover artists from around the world. My highlights have been the Japanese Shibunkaku Gallery and the South Korean Hyundai Gallery, whose stylish exhibits harmonize perfectly with the tranquil atmosphere of Frieze Masters, as well as captivating female artists exhibited at Luxembourg + Co and Galleria Massimo. Minini.
The "Spotlight" section curated by Laura Hoptman, director of the Drawing's Center, features avant-garde pioneers from around the world, while Fitzwilliam Museum director Luke Syson organized a new section called "Stand Out", that breaks traditional boundaries between art forms such as design and sculpture.
Here are my Top 7;
Group exhibition at Shibunkaku (A9)
The Shibunkaku Gallery traveled from Japan to Regent's Park with an exceptionally curated exhibition of artists from both East and West, including avant-garde calligraphers Morita Shiryu and Inoue Yuichi, and prominent Japanese artists Shinoda Toko and Miyawaki Aiko. Ceramic artists Yagi Kazuo, Suzuki Osamu, and Miyanaga Rikichi are also featured, along with iconic works by prominent artists from the 1960s, including Joan Miró, Lucio Fontana, and Robert Motherwell. Shibunkaku exhibition celebrates Japan's rich artistic heritage, as well as influences and cross-cultural exchanges between Eastern and Western artists
Seung-Taek Lee at Hyundai Gallery (B2)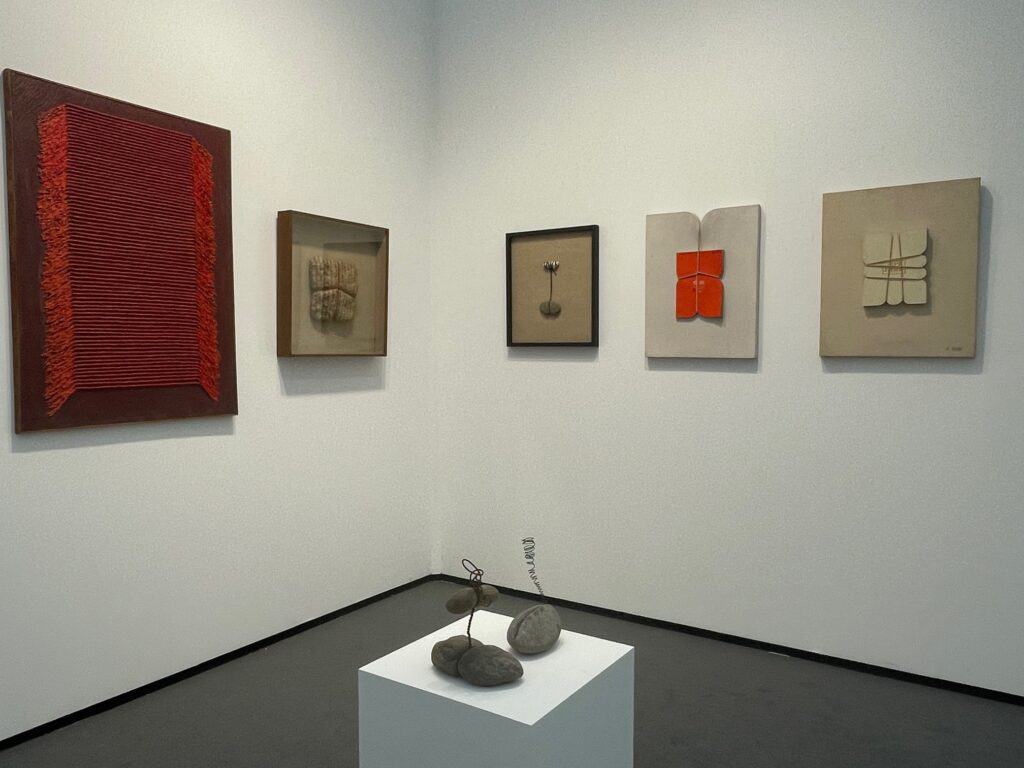 The South Korean Hyundai Gallery presents the magnificent "non-sculpture" by Korean avant-garde artist Seung-taek Lee (b.1932). His work is inspired by Korean folklore and shamanic traditions, and he often uses natural objects such as paper, stone, and rope to disrupt artistic conventions.
Giosetta Fiorini at Luxembourg + Co (D3)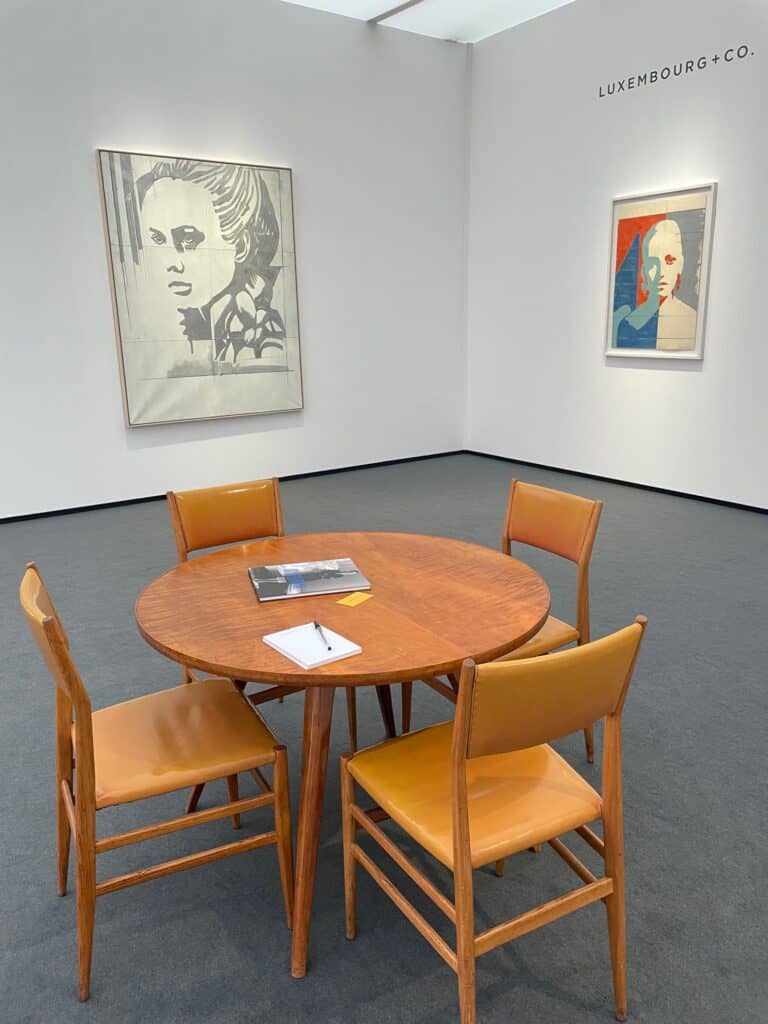 Discovering the paintings of the post-war Italian artist Giosette Fioroni for the first time was for me a highlight of Masters. Luxembourg + Co exhibits here the portraits of Fioroni from the 1960s in "Alter Ego" as well as in their Savile Row gallery in central London.
Giosetta Fioroni (b.1932, Rome) is often associated with the emergence of Pop Art in Italy and with the Roman group Scuola di Piazza del Popolo, which also included Mario Schifano, Tano Festa and Franco Angeli. Her portraits feature Bardot-style women evoking the era of the 1960s. Her muses resemble starlets from a Fellini film, while she sometimes uses star patterns and a palette of blue, red and white which evokes American pop art from the same period.
Carla Accardi and Sheila Hicks at Massimo Minini Gallery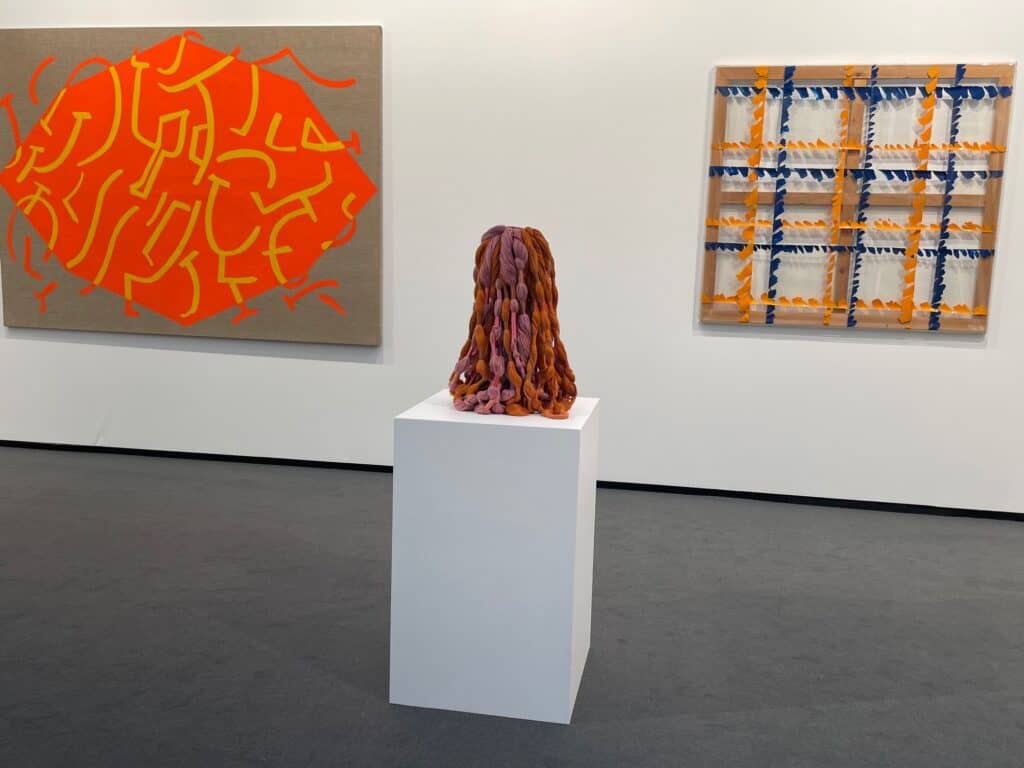 The life of Sheila Hicks (born in Hastings, Nebraska, 1934) as "a fabric of threads woven together on purpose or by chance, fruitful encounters." While decades have passed since Lévi-Strauss offered this overview, his words are still relevant today. Since the 1970s, Hicks has established herself as one of the most distinctive artists of her generation. Working to maneuver color, texture and form, the Paris-based artist has produced a rich and complex body of large-scale works. bas-reliefs, sculptures and installations that engage in material tactility and the collective experience of space.
Born October 9, 1924 in Trapani, Italy, Carla Accardi trained as a painter at the Accademia di belle arti in Florence, before settling in Rome in 1946. Accardi quickly integrated into the inner circle of Art Club and was a regular visitor to the workshop of Pietro Consagra. There she met the artists with whom she founded the influential post-war group Forma 1 (Form 1, 1947-51): Consagra, Piero Dorazio, Mino Guerrini, Achille Perilli, Antonio Sanfilippo (whom she married) and Giulio Turcato. The group's manifesto, signed by Accardi in 1947, called for reconciling Marxist politics with abstract art. The group's first exhibition was held in Rome in 1947, and Accardi's first solo exhibition soon followed, in 1950 at the Galleria Golden Age, Rome. His early paintings consisted of interlocking geometric shapes.
"American painting" at Waddington Custot (G2)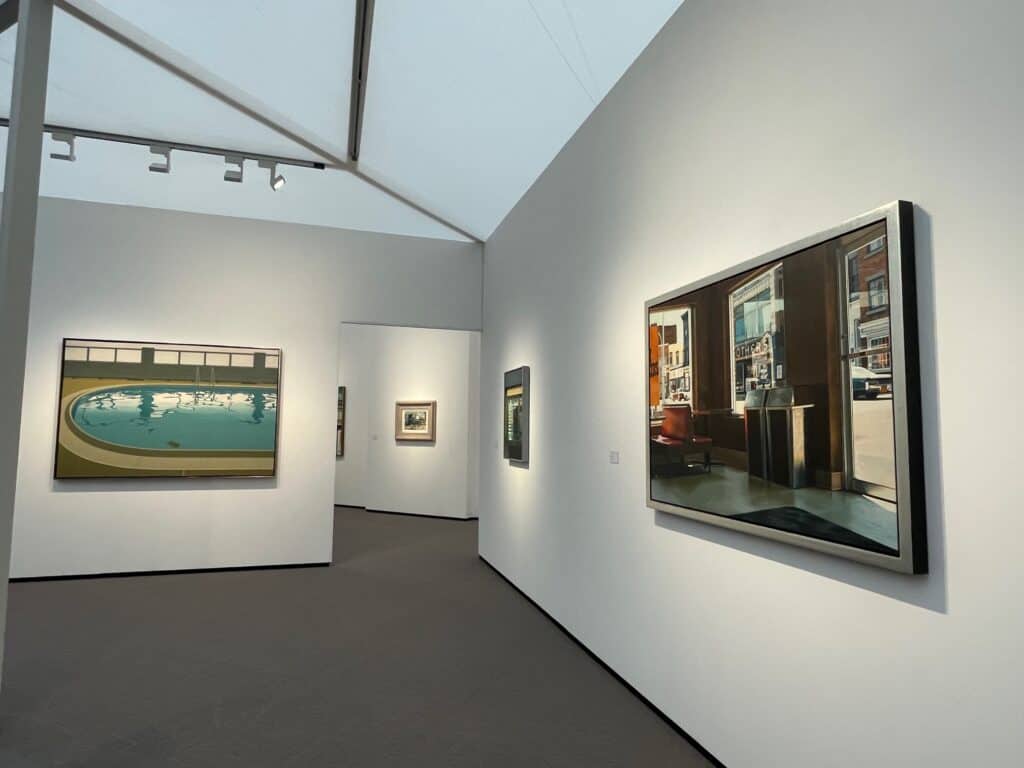 The Waddington Custot Gallery exhibits a selection of striking photorealistic paintings from a private collection of some of America's most iconic 20e Artists of the century. The exhibit features artists working in the United States of the late 1960s and 1970s, including: John Baeder, Robert Cottingham, Don Eddy, Richard Estes, Ralph Goings, Ron Kleemann, and John Salt. Robert Cottingham's 1969 'Pool' Captivates and John Baeder's 'Roarin Rohrer' (1972) evokes a bygone era of roadside dining in the 1950s.
Waddington Custot presents a selection of iconic paintings by artists working in the United States of the late 1960s and 1970s, including: John Baeder, Robert Cottingham, Don Eddy, Richard Estes, Ralph Goings, Ron Kleemann, and John Salt. The paintings come from a private collection that took over a decade to build.
Gagosian "Material process" (C2)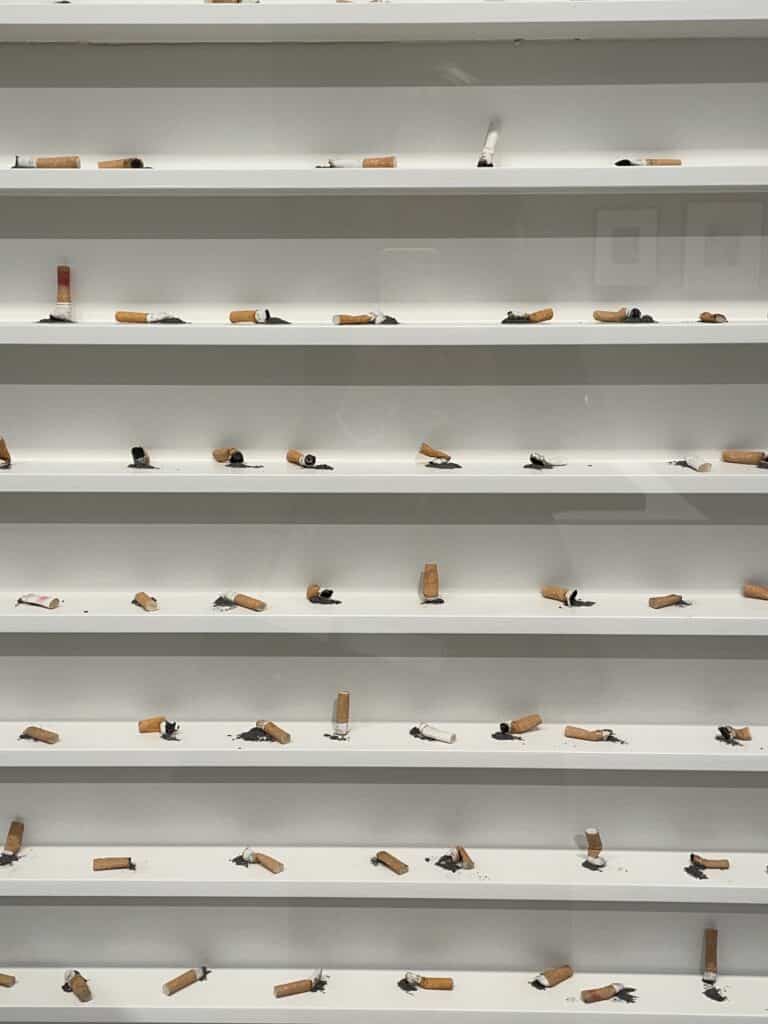 Gallery giant Gagosian presents its heavyweight artists in Material process, which includes 20e British sculpture of the century by Henry Moore, Anthony Caro and Rachel Whiteread, alongside installation of cigarette butts by Damien Hirst and macabre sculptures of marinated veal.
7. Thaddée Ropac (F6)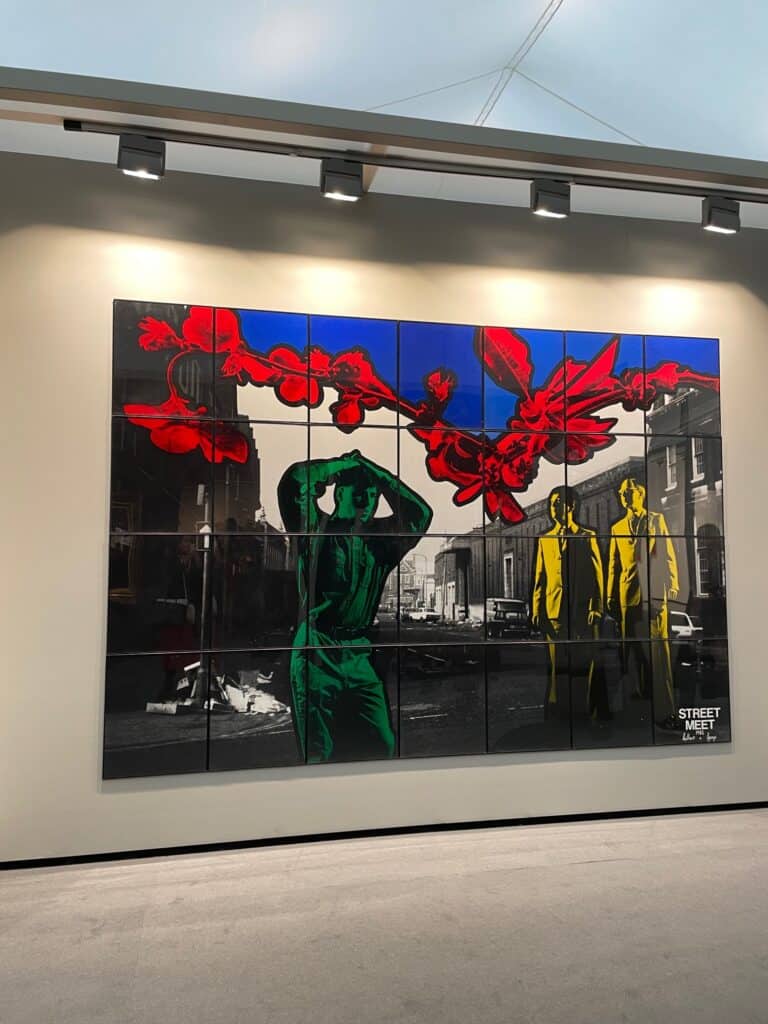 Thaddaeus Ropac Gallery presents a "re-staging" of Rudy Fuchs' seminal exhibition Documenta 7 from 1982, including works by Gilbert & George, Emilio Vedova, Georg Baselitz, Robert Mapplethorpe, Arnulf Rainer and Joseph Beuys, which we are celebrating the centenary this year. At the time, Fuchs' curatorial approach of placing contemporary works of art alongside classical sculptures from the Kassel museum collections, and emphasizing the relationship between the old and the new, was radical. Fast forward to Frieze Masters in 2021 and it seems perfectly natural to draw a line between old and new masters.
Frieze Masters is open until Sunday 17e October at Regent's Park: frieze.com/fairs/frieze-masters
Categories
Art reviews
London art objects
Key words
Masters of the frieze
Frieze week
Author
Lee sharrock
Lee Sharrock is a global creative public relations consultant, independent curator, artist, and contributor to FAD, Creative Review, F22, STATE, and Soho House Magazine. Lee studied at Norwich University of the Arts, University College London (UCL) and Universita di Bologna, before embarking on a career in the art and advertising world. She started her career at Sotheby's Auctioneers and worked at the Institute of Contemporary Arts (ICA), M&C Saatchi, Timothy Taylor Gallery and Saatchi & Saatchi before launching Lee Sharrock PR as a bespoke cultural public relations consultant. Lee is responsible for international communications for the houses of the Serviceplan group. of communication in the world.www.leesharrock.co.uk